Q: I'd like you to give me a quote but I don't want the hard sell or too-good-to-be-true offers.
A: Rest assured, this is something that we simply don't do. Ruislip Windows never engage in any dubious sales tactics, nor do we ever attempt to persuade you to sign up there and then. We respect our customers' privacy at all times, and will never overstay our welcome! In most cases 30 minutes is more than adequate to tell you about our products and to take measurements for pricing.
For more information on the types of questions you should be asking your installer, see our Buyer's Guide >>
Q: What's the difference between all the different windows and doors that you install? I'm unsure which to go for.
A: Put simply, we have our standard range of products and then our premium luxury range. Our standard ranges are very good quality products and include our Kommerling uPVC windows and doors and our Crown and Aluk aluminium ranges - both Crown and Aluk also offer a premium range. Windows and doors from our Residence Collection are designed to replicate traditional wooden windows and contain many additional features you won't find in a standard uPVC window. And our Reynaers sliding and bifolding aluminum doors are, quite simply stunning.
In addition to our Residence Collection Flush windows, we now offer uPVC Flush casement windows from Rehau (the Rio) and Deceuninck (the Heritage). For technical specifications, please talk to John, who will gladly advise you on all our range, or check out our product brochures which will give you more information. uPVC is still the biggest seller, but aluminium is gaining in popularity, and is usually first choice for architectural projects.
Check out our product brochures and videos >>
Q: I don't want white "plastic looking" windows, I'd like something different.
A: You'll be pleased to hear you don't have to! All of our uPVC windows are available in several different colours and woodgrain foils. You can even have dual colours, so a colour on the outside and white on the inside. Aluminium profiles can be powder-coated to any RAL colour - that gives you a choice of hundreds of different colour options. Our Residence Collection, Rehau Rio Flush and Deceuninck Heritage flush windows have such authentic looking woodgrain foils it's hard to tell they're not wood.
Colour charts are available on our individual windows pages for each of our window profiles >>
Q: I don't want to replace my existing windows but I would like to improve on their thermal efficiency. I live by a busy main road and would also like to reduce the amount of noise if possible.
A: All our replacement windows and doors will reduce outside noise levels, particularly if you choose our special acoustic glass. However if you don't want to replace your existing windows then secondary glazing is a good alternative. Not only does it improve the thermal quality of your windows but it reduces outside noise levels considerably (when closed).
Check out our Secondary Glazing brochure for more details >>
Q: What is an "Equal Sightline"?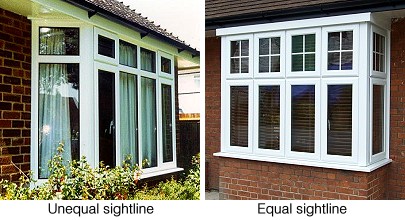 A: When manufacturing most modern replacement windows it is normal for there to be smaller areas of glass wherever there are openings (vents) fitted. Where the frames are fixed the glass area will be larger. This creates an "unequal" site line (see pic, right).
However on a lot of older properties it was more common to have an equal sight line (you can't tell from the outside which windows open and which don't). This is particularly the case with bay windows. Fitting "dummy vents" into the frames will create what is known as an "equal" sight line.
Whilst equal sight lines are not for everybody; indeed some will not like the overall "bulkier" appearance of the window, there is no doubt that for some types of property this will be the preferred option. It is also a very good alternative with Georgian and leaded window designs as it allows you to have rectangles or squares that are more equal in size.
Note: All the sightlines in our Residence Collection and Deceuninck Heritage range are perfectly equal replicating a tradtional flush timber window.
Q: Can I see some of your previous work and talk to your customers?
A: Yes of course. Please contact us and we'll be glad to help. Please also read what our customers have said about us on our testimonials page and on our Yell.com reviews.
Q: I've always thought that the big national companies do a better product; is this true?
A: Not necessarily no. We install tried and tested products from top manufacturers such as Kömmerling, Crown and Hurst. Just because we're "small and local" doesn't mean our products are "small", far from it! In fact with a small well established local company such as us, you get the best of both worlds. A top quality product installed by someone who really cares - this can make all the difference, particularly where the fitting and the aftersales are concerned. Plus, in a recent WHICH? survey, small independent installers outperformed the large nationals every time.
See our Buyers Guide for more information on this survey >>
Q: What are Window Energy Ratings?
A: Window Energy Ratings (known as WER) are a guide to the energy performance of your windows. There are two main schemes run by the British Fenestration Ratings Council (BFRC) and the British Standards Institure (BSI). The window energy rating scheme checks all the components to ensure the final window achieves the energy efficient standard claimed. This means that you just need to look for the A-G ratings and remember the higher the energy rating, the more energy efficient it is. All windows installed by us (both aluminium and uPVC) achieve at least an A rating.
Find out more about window evergy ratings at the BRFC website and the BSI website >>
Q: What happens if something goes wrong after my windows are fitted?
A; It's an unfortunate fact of life - no matter how good a company is there can sometimes still be problems. Our commitment to our customers doesn't end once your installation is complete however. We have our own service engineer to tackle any problems you may experience. General repairs will usually be undertaken within five working days. Urgent repairs on the same day. And what's more, this service is not chargeable within your guarantee period.
Q: I'm very concerned about security. Can you guarantee the security of your products?
A: We only install tried and tested products by top manufacturers. All products have to go through rigorous testing procedures and the industry is constantly developing and evolving their product specification. Initiatives such as "Secured by Design" also mean that products have been independently tested and certified as reaching a certain standard. The security standards of each product we install are detailed in the individual product brochures.
Check out our product brochures and videos >>
Q: What is Secured by Design?
A: Secured by Design focuses on crime prevention at the design, layout and construction stages of homes and commercial premises and promotes the use of security standards for a wide range of applications and products. Established in 1989, Secured by Design is owned by the Association of Chief Police Officers (ACPO). The company operates a licensing scheme currently including more than 350 member companies who are entitled to use the Secured by Design logo on products that have passed the tests specified by ACPO Secured by Design. Many of the products that we install from manufacturers have been approved by the Secured by Design initiative.
Visit the Secured by Design website for further details >>
Q: Who are QANW?
A: Quality Assured National Warranties administer our insurance-backed guarantees and are one of the UK's leading providers of insurance backed guarantees and deposit protection insurance. The consumer protection offered by QANW comes in the form of an insurance policy, issued directly by QANW to the customer, whenever work is done by a participating contractor. This policy is designed to protect the homeowner against defects in the insured works, where the original installer has ceased trading and is unable to honour their own guarantee. Additionally you will have deposit protection, so if you have paid your deposit and the contractor goes out of business before your installation is completed, your deposit is protected. These insurance schemes are underwritten by Guarantee Protection Insurance Ltd, which is a UK based, FSA registered insurer. The insurer is a member of both the Financial Ombudsman Service and the Financial Services Compensation Scheme, meaning that householders have very strong rights to recourse in the unlikely event that things go wrong. Please watch our helpful short video for more information.
Visit the QANW consumer website for more details >>
Q: How long will I have to wait for my windows to be fitted?
A: Usually no more than 3 weeks (yes, you read that right!), but it does depend on the time of year and how busy our workload is and if you've ordered anything usual or bespoke. If you've got tight deadlines to meet, speak to us, as we will always do our best to work within these. We will always make it clear at the time of our quotation how long you will be expected to wait between placing the order and installation.